Cochem, a "pearl" along the river Mosel.
The region around the Mosel river has many lovely small towns and beautiful castles and Cochem, of course, fits perfectly in this description.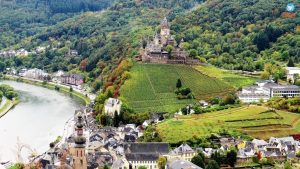 The city is located approximately 115 km south of Cologne and 150 km away from Frankfurt. A better location would be impossible! It's a great option for a quick trip when around the area.
In the state of Rhineland-Palatinate or "Rheinland-Pfalz" in German, the city is a real grace and together the Mosel river and the grandiose Castle on top, it frames quite an imposing view.
A very typical and well maintained old-historic center, full of half-timbered houses and nice old buildings, shows all the antique history of this city. A stroll along the Mosel river is also a delightful program.
Considering all the attractive, the city is very popular among tourists and can get very crowded during weekends. But this should not avoid your visit to be special.
The city can be explored in only 1 day, but nothing prevents you to spend the night in this special place and taste the really delicious and special regional wines. Not only the city but the entire Mosel region has great Riesling wines. Do not leave there without tasting!!
The main attractions are: the "Markt" (Main Square); the "Reichsburg", the beautiful Castle that sits high on the hill and the "Cochemer Sesselbahn", which is a chair lift that takes you to the peak of the "Pinnerberg" (mount) from where you can have beautiful views to the city, to the Mosel river and to the Castle.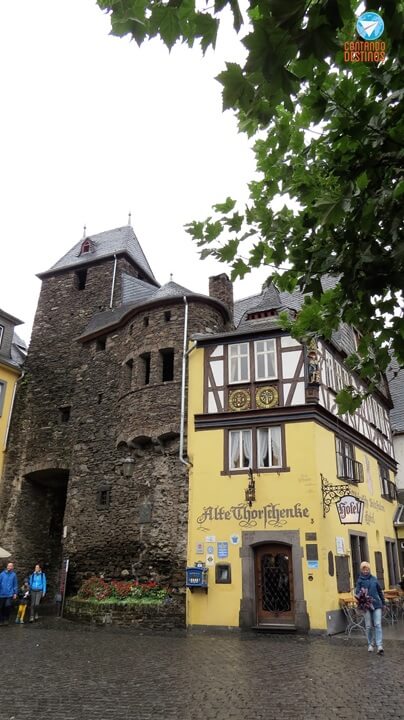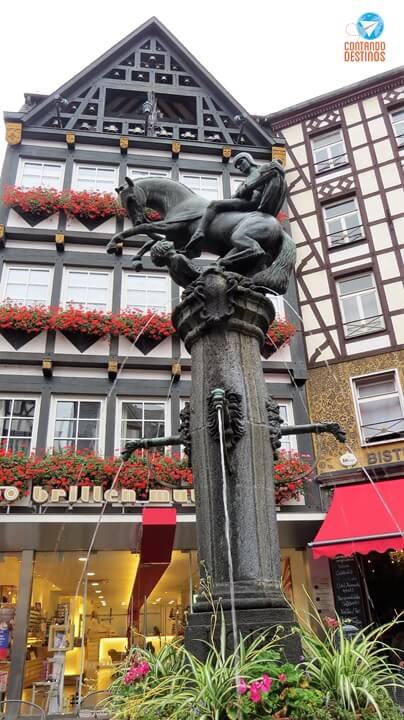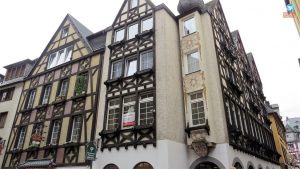 .
Cochemer Sesselbahn, the chair lift from Cochem
My hint to make the visit even more special is the "Cochemer Sesselbahn", the chair lift. We went to the top and then back, and were happy with the beautiful things we saw. In case of raining, you can choose the double-seat chair lift which can be closed, protecting from the rain and are, of course, completely safe.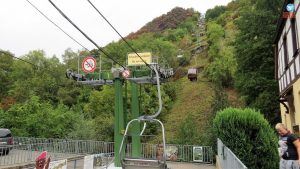 We went up and then towards "Pinnerkreuz", an observatory deck there up in the mountain.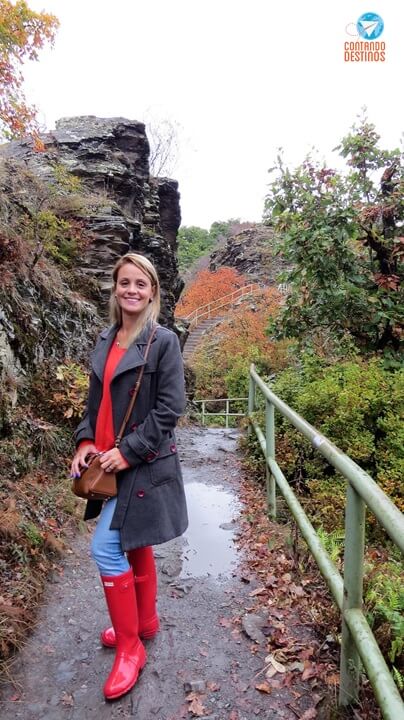 From this location, it is possible to have a privileged view to the "Reichsburg", the city's castle already mentioned. From there we also have a really beautiful view to the Mosel river. See yourself in the pictures: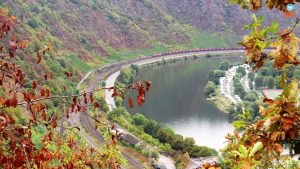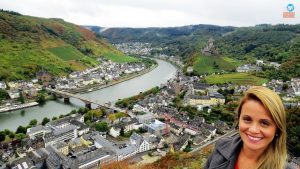 Over the mount there is also one Cafeteria, where you can take away or eat something enjoying all the natural beauty of Cochem.
 On the day we have visited, it was very cloudy and drizzling a bit, but it did not spoil our ride on the chair lift. If you're there on a sunny day, a great option is to go up by the chair lift and down the by trails passing through the vineyards. It must be amazing!
But if you decide to go down with the chair lift, you also will not regret as the view is beautiful!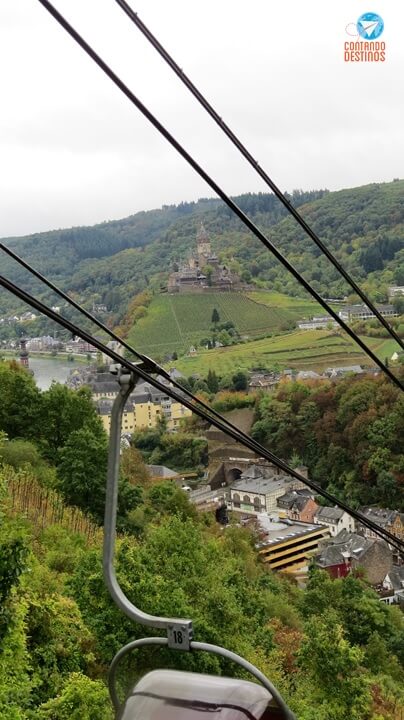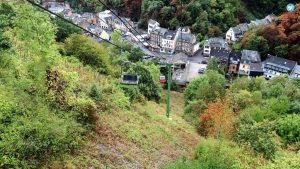 To go from the city center to the "Cochemer Sesselbahn" is quick and simple. You only need to follow the avenue right on the back of the Tourist City Center and goes opposite way to the river, which is called "Enderstraße", and then walk about 5 minutes to reach the chair lifts.
Before heading to the "Cochemer Sesselbahn", pass through the Tourist City Center office to pick up your Cochem map and perhaps some more information as needed.
Address Tourism City Center: Endertplatz 1
Be sure to go to the "Cochemer Sesselbahn", we think it is super worth to go!
And to further take advantage of the region, you can possibly visit the "Reichsburg" right in "Cochem" and also the "Burg Eltz", which is located 28 Km away from there.
I have visited the "Burg Eltz" and told everything on this post: "Burg Eltz – How to visit one of the most beautiful castles in Germany"
.
Information Cochemer Sesselbahn
Address: 44 Enderstraße
Opening hours: from 19 March to 13 November is open daily. See the timetable:
From March 19 to June – from 10 to 18 hours
From the first weekend of July to August – from 9:30 to 19 hours
September – from 10 to 18:30
October: 01-11 – from 10 to 18 hours
12 to 18 – from 10 to 17:30
19 to 24 – from 10 to 17 hours
25 to 31 – from 10 to 16 hours
Until November 13 – from 11 to 16 hours
Ride prices:
Adults – return € 6.30
Only one way or return € 4.30
From 4 to 14 years – return € 2.90
Only one way or return € 1.90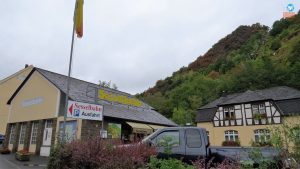 * The "Blog Contando Destinos" received from the Cochem Tourism Center the entries to the Cochemer Sesselbahn and we appreciate the great opportunity. Please note that everything described on this post is merely based on our personal experience during our visit/stay and reflects our spontaneous, personal and individual opinions.
Planejando sua viagem?
Estamos aqui para te ajudar! Essas informações serão úteis para você:

Sempre que viajamos reservamos nossa hospedagem, seja em hotel ou hostel, pelo Booking.com. Tem algumas vantagens e para nós, a mais importante é que a maioria dos estabelecimentos tem cancelamento grátis. Isso ajuda muito, caso tenha algum contratempo ainda antes de viajar. Veja todas as nossas experiências em hotéis/hostels durante as viagens.

Em muitos países o Seguro Viagem é obrigatório e pode ser exigido na imigração. Por isso, nunca viaje sem. Estamos com uma PROMOÇÃO imperdível!! Clique aqui, utilize o cupom PASCOA e ganhe 15% de desconto em qualquer plano escolhido. Se quiser pagar menos ainda, escolha o boleto como forma de pagamento e ganhe mais 5% de desconto.

Ganhe tempo nas suas viagens comprando os ingressos antecipadamente pela Get your Guide. Eles oferecem ingressos para atrações, tours, passeios de barco, ingressos com várias atrações combinadas, entre outras opções. Garanta seu lugar e evite filas!
Fazendo as reservas pelos links acima, você não paga nada a mais e nós recebemos uma comissão, que nos ajuda a manter o blog e trazer sempre conteúdos novos e de qualidade para auxiliar na sua viagem.