Budapest is an amazing beautiful city! It was formerly divided in two parts: Buddha and Pest. The hustle and bustle happens on the Pest side and it was exactly where we stayed at the Maverick City Lodge. To help you choose your hostel in Budapest, we will describe how was our stay there. We´ve arrived the hostel already at night, just dropped our bags at the room and went for dinner. Very convenient, we´ve been to the restaurant just besides the hostel (could even say together) called Fat Mama (I'll tell you more about further down).
Do you want another reason to stay at this hostel? It stays about only 100 meters away from Szimpla Kert, a super interesting bar. In Budapest there are some unique ruin bars, located on buildings that were once abandoned after the war and have been minimally remodeled. The whole environment is divided between several different bars, each one unique and might fit to your taste. The Szimpla Kert was one of the most incredible places we´ve been in Budapest. And only 100 meters away from our hostel, could not be better!
Where to stay in Budapest
Location of the Maverick City Lodge
In the map above, you can see the hostel exact location.
It is approximately 800 meters away from Deák Ferenc tér station, where you can take the underground lines 1, 2 and 3. Three of the four subway lines existing in Budapest.
The nearest metro station is called Astoria, about 600 meters away. At this station, works the metro line 2. On the way from the hostel to the Astoria Station, is located the Great Synagogue, the 2nd largest Synagogue in the world.
Also, about 350 meters away, you can reach the Király Street, where several restaurants, bars and cafés can be found. This street is always very busy, especially at night. And walking about 600 meters, you can reach the Andrássy street, the main avenue of Budapest.
As said before, the hotel is only 100 meters away from Szimpla Kert, definitely a worth seeing bar.
Structure of the Maverick City Lodge
The hostel has 7 types of rooms, and you can choose between double or shared rooms. There are also shared rooms only for women, which can be a choice for traveling alone ladies.
A kitchen is available for use by all the guests, and there is coffee and tea, and all the utensils needed for a good meal.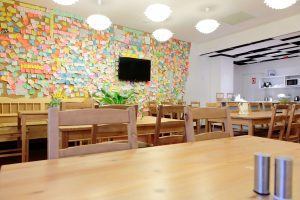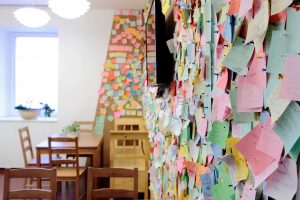 The reception works 24 hours and all the girls who attended to us were very solicitous and friendly, helping us on whatever we needed. Sofas and water are available at the lobby. There you can also find flyers with tour options, events and suggestions of what to do in the city.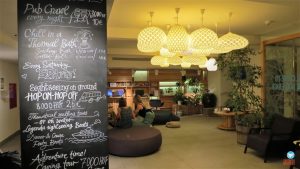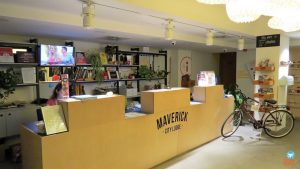 One very interesting thing was that they´ve made a phone available for guests, to call their mothers (or whoever) for free! There is service for many countries, but unfortunately, not for Brazil.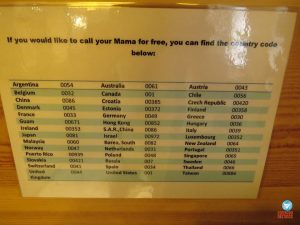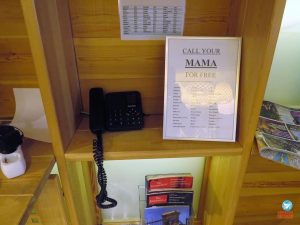 Also in the lobby, computers with internet connection are available for guests.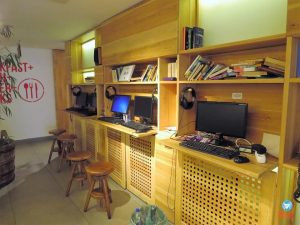 The hostel has free Wi-Fi available in all the areas, including the rooms. For some short times, the signal in the room was very weak, but it worked fine most of the time.
Next to the hostel is the Fat Mama restaurant, where we had dinner on our first night. The hostel reception girl gave us a discount voucher, so we took the advantage and ate there. The atmosphere is pleasant and as coincidence, during our dinner some Brazilian songs were on. The food was very good and the prices fair.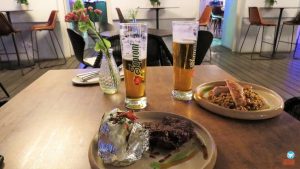 Bedroom
We´ve stayed in a double room with a shared bathroom. But the interesting was the bathroom was only shared with another bedroom only. The shower and a toilet were actually separated, what is practical. The room was very comfortable and accommodated us well, with enough space for us and our suitcases. An important detail is that the room had air conditioning, which was important to have good sleeping nights, as during the time in Budapest it was quite warm. Despite being located in a very busy area, we could not hear the street noises inside the room, so we had quiet sleeping nights as well.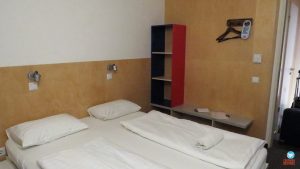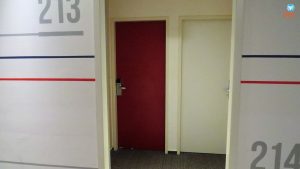 Information about Maverick City Lodge
Address: Kazinczy street 24-26
Website: Maverick City Lodge
Reservations by website or email [email protected]
So overall, we really enjoyed our stay! The hostel was well located, clean and cozy, had a great service and friendly staff and after all, made our time in Budapest much better.
* The Contando Destinos Blog received courtesy for the period and would like to thanks the Maverick City Lodge for the opportunity. We remark that everything described here is based on our own experience and reflects our personal opinions.
Planejando sua viagem?
Estamos aqui para te ajudar! Essas informações serão úteis para você:

Sempre que viajamos reservamos nossa hospedagem, seja em hotel ou hostel, pelo Booking.com. Tem algumas vantagens e para nós, a mais importante é que a maioria dos estabelecimentos tem cancelamento grátis. Isso ajuda muito, caso tenha algum contratempo ainda antes de viajar. Veja todas as nossas experiências em hotéis/hostels durante as viagens.

Em muitos países o Seguro Viagem é obrigatório e pode ser exigido na imigração. Por isso, nunca viaje sem. Estamos com uma PROMOÇÃO imperdível!! Clique aqui, utilize o cupom PASCOA e ganhe 15% de desconto em qualquer plano escolhido. Se quiser pagar menos ainda, escolha o boleto como forma de pagamento e ganhe mais 5% de desconto.

Ganhe tempo nas suas viagens comprando os ingressos antecipadamente pela Get your Guide. Eles oferecem ingressos para atrações, tours, passeios de barco, ingressos com várias atrações combinadas, entre outras opções. Garanta seu lugar e evite filas!
Fazendo as reservas pelos links acima, você não paga nada a mais e nós recebemos uma comissão, que nos ajuda a manter o blog e trazer sempre conteúdos novos e de qualidade para auxiliar na sua viagem.